Evolution Keratin Smooth System
The Secret to Healthy, Shiny, Smooth Hair – Evolution Keratin. 
Evolution Keratin Hair Smoothing Treatment is a revolutionary treatment that softens, smoothes, straightens and takes away the frizz and, most importantly, gives you strong, radiant hair.
Evolution Keratin is the only Hair Smoothing Therapy Line infused with natural argan oil, vitamins and proteins activated by dual performance formulas with exclusive technology for greater keratin absorption. This pioneering Hair Smoothing Therapy Line restores damaged and chemically treated hair to its natural state.
The key ingredient of this treatment is Keratin, the primary protein of skin, hair and nails. Keratin, which comprises approximately 88% of your hair, is a natural substance that gives hair the ability to return to its original healthy, shiny, smooth and conditioned state.
So, not only do we now have a sophisticated Keratin, but EVOLUTION KERATIN has the added advantage of the infusion of Argan oil from Morocco. 
Evolution Keratin has taken the utmost care to provide customers with totally hassle-free hair care treatments. Along with our regular hair treatment products, Evolution has excellent after-care keratin hair products, including shampoos and conditioners – all Sodium Chloride-Free and Sulfate-Free, with UV protection. 
Evolution Keratin  is not just about taming – there's a full range of exceptional hair care products! All of which contain the frizz reducing and hair conditioning benefits of Keratin and Argan Oil which hails from Morocco.
Our keratin hair treatment products leave the hair shiny, smoother, healthy and beautiful for 3-5 months. After this period, your hair will be back to its original natural state. In fact, because this treatment for brazilian hair smoothing is designed to make the bonds of your hair stronger for a long period of time, your hair will appear even more lustrous and healthier than before. This is the beauty of Evolution Keratin products.
How it works? 
Evolution hair products are very simple to use. Stylists will master the application process in no time. It takes 3 steps:
Q&A
What type of hair can the evolution treatment be used on?
Evolution smoothing therapy is perfect for all hair types. It can be applied over any chemical treatment such as colour, highlights, relaxers, Japanese straighteners, bleach and virgin hair.
Is it best to apply Evolution Keratin before or after colouring?
For optimal results, it is ideal for colour /highlighting processes to be done before applying Evolution Keratin. Otherwise, you can wait 2 weeks after the treatment application to apply colour/highlights.
What shampoo and conditioner should the client use after the treatment?
Sodium chloride- free shampoo and conditioner. Correct after-care improves the longevity of the treatment. We sell an array of after-care products (link to product page) that promote the longevity of the treatment and leave your hair feeling healthy, beautiful and shiny.
What options of the treatment does the client have?
Our line has 3 different strengths for a better customization of the treatment. This allows the stylist to determine each client's individual needs.
When can the client shampoo the hair?
Whenever the client prefers even right after the treatment. This is why our product is so unique. There are no longer time restraints within which to wash your hair.
Are the Evolution hair smoothing formulas permanent?
No. It will gradually wash away over time. It can last anywhere from 3 to 5 months.
Can I go into the pool or ocean after the Evolution smoothing treatment?
It is recommended that you apply the Argan infused leave in conditioner before you get into the water to protect your hair. Rinse well afterwards before shampooing.
Can I have the Evolution procedure while pregnant or nursing?
While there is not known adverse effects, pregnant women and nursing mothers should consult a physician prior to any type of hair treatments.
Can the after-care products be used independently of the Evolution Keratin Smoothing treatment?
Of course they can! We encourage clients to have the treatment and continue to use the after-care products to help maintain the condition and shine. When used on their own, these products will also boost strength and manageability. The after-care products are infused with argan oil, keratin and essential vitamins and fatty acids, therefore they would be beneficial in protecting the hair from external and internal elements while leaving the hair soft, shiny, smooth and more manageable.
Keratin, sealed with a flat iron, achieves smooth, silky, straight hair within a matter of  a few hours and lasts up to 5 months.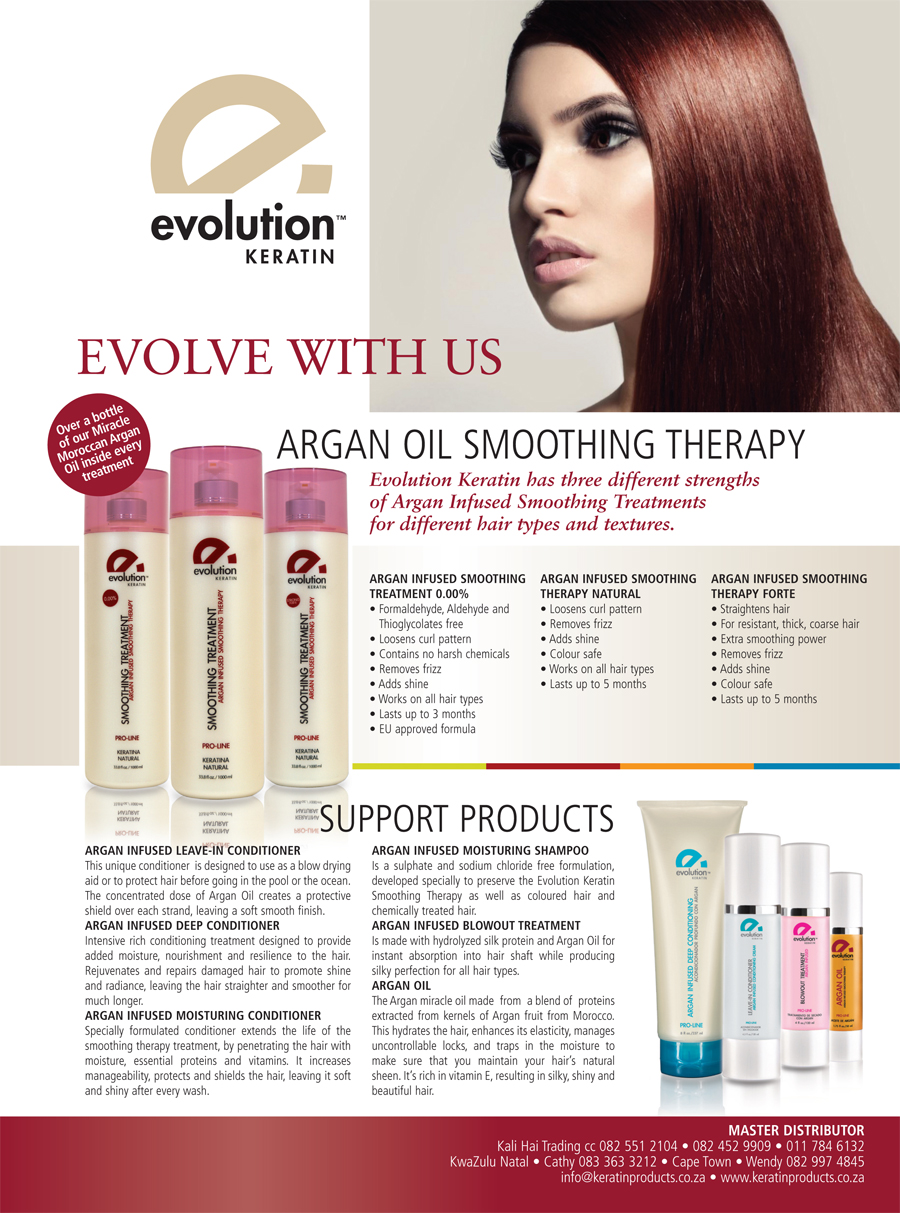 CHI Enviro
American Smoothing Treatment
It is FREE from Formaldehyde and Formaldehyde-releasing Chemicals.
CHI Enviro American Smoothing Treatment is a revolutionary safe treatment. It eliminates up to 95% of frizz while making curly hair more manageable.
It instantly adds amazing shine, silkiness and condition to the hair.
The results of this safe alternative to traditional harsh straightening systems are amazing.
The system safely smoothes frizzy, curly hair into beautiful, soft silky hair. When the powerful, yet gentle, formula is combined with heat from the CHI Iron and dryer the hair is bonded, providing incredible results.
This revolutionary smoothing system infuses the unique formula of amino acids, proteins, silk and pearl into the hair's cuticle.
This process dramatically improves the condition, shine and smoothness of even the most unruly hair types.
Results typically lasts up to 4 months depending on hair type.
---
Press Release
Press – Corporate CHI Enviro American Smoothing Treatment 03/24/2011
Revolutionary new CHI EnviroAmerican Smoothing Treatment from Farouk Systems, is a new professional in-salon treatment designed with pearl and silk complex to transform frizzy, curly hair into sleek polished tresses.
This revolutionary treatment is safe,easy, simple and is cured with 410°F heat to rearrange bonds and infuse pearl and silk molecules into hair cuticles filling in weak spots, creating an overall smoother cuticle layer, locking out humidity and frizz.
The treatment can eliminate up to 95% of frizz while making curly hair more manageable. CHI Envirois guaranteed to leave hair healthier, stronger and smoother, while adding amazing shine.
Unlike other salon services, the more hair is treated with CHI EnviroAmerican Smoothing Treatment, the healthier it becomes.
With each treatment, the absorption of silk and pearl make the hair regenerate natural proteins, repel humidity, blow-dry faster, style easier and be straighter and shinier.
CHI Enviro American Smoothing Treatment is available in three formulations for all hair types: Virgin/Resistant, Colored/Chemically treated and Highlighted/Porous/Fine.
CHI Enviro Home Care Maintenance Products are designed to work synergistically with CHI EnviroAmerican Smoothing Treatment to prolong results and include: Smoothing Shampoo, Smoothing Conditioner Smoothing Masque Smooth Shine Spray and Smoothin
Many of you have been asking questions about the new hair swe've been talking about.
We asked for a few facts from the company, Farouk Systems, and we wanted to share them with all of you!
CHI Enviro American Smoothing Treatment
Q: What is the CHI Enviro American Smoothing System?
A: This revolutionary treatment eliminates up to 95% of frizz, reduces curl and instantly adds amazing shine, silkiness and condition to the hair. It is a protein reconstructing complex with amino acids, proteins, silk and pearl to increase shine and strength.
It is FREE from Formaldehyde and Formaldehyde-releasing Chemicals.
Its protein and amino acid complex allows temporary change in the structure of hair fibers, leaving hair easier to comb, as well as silkier, smoother and shinier hair.
Q: When can I color my hair?
A: Hair can be colored immediately following the smoothing treatment with Farouk Systems Ammonia Free colors.
Q: When can I shampoo my hair?
A: You may shampoo your hair 48 hours following the smoothing treatment.
However, do not use pony tail bands, clippies, headbands or anything that would stifle the hair's straight pattern for at least 48 hours following the treatment.
Q:How long will the results last?,
A:Smoothing treatment results can last up to 4 months depending upon hair type and maintenance at home from client.
It is recommended that customers use the CHI Enviro Home Care Maintenance Shampoo and Conditioner.,
Q: How long does the treatment take to complete?
A: Average time is usually 2 hours.
The length, density and amount of hair will determine the time spent during this service.
Q: How soon can customers do a touch up?
A: This hair straightening treatment can be given again after 4-6 weeks. It has no harmful chemicals.
Only amino acids, proteins, silk and pearl are infused into the hair