Professional Spray Tanning
With over 20year's Experience
ORGANIC SPRAY TAN by THREE WARRIORS
Angelas Mane Attraction is for those who like to tan in the most luxurious way and without the damage of the sun.
Our spray tanning service, located in Kew, Melbourne, is a hand-airbrushed system using the world's most beautiful self-tan formulation, Tuscan Tan or our Organic tan by Three Warriors. Self Tan in comfort and style with our expert tanning technicians and custom-built tanning suite.
Check at the bottom of this page for spray tan before and aftercare advice, and health and safety information. For your confidence, trial tans and test patches are highly recommended for special events.
Spray tans are self-adjusting, working with your natural skin tone. Melanin technology ensures your tan is automatically tailored to suit your complexion, by achieving a tan that will only go as dark as your skin would naturally tan from the sun.
Tans look and last best when applied to well-prepared skins. Expect your tan to last 4-10 days depending on your skin type and how you care for it. For special events, book your tan application 1-2 days prior for the best outcome.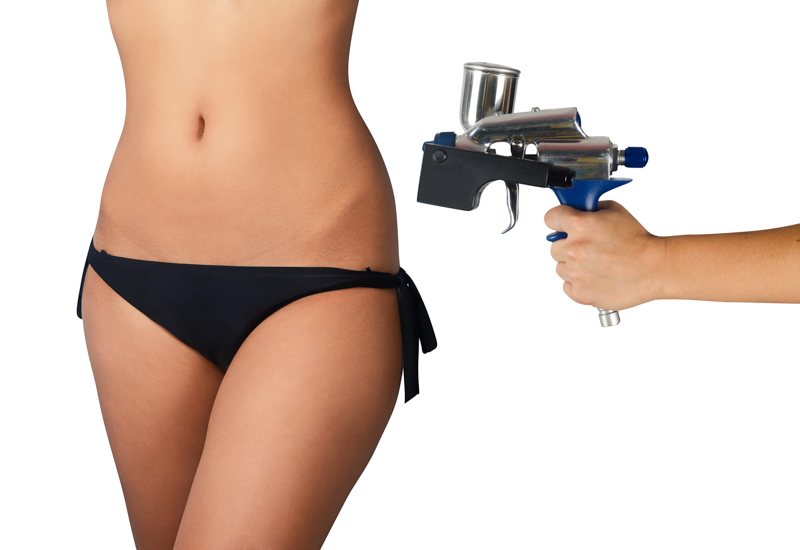 Phone to make a spray tan booking
PROFESSIONALLY APPLIED SPRAY TAN BY
Tuscan Tan or Three Warriors
The Tuscan Tan Or Three warriors Spray Tan Treatment is the quickest way to get a professional finish. Delivered in around 15 minutes by our talented tanning team, This light airbrush spray application is immediate drying
PROFESSIONALLY APPLIED SPRAY TAN BY
THREE WARRIORS [ORGANIC]
Natural | Certified Organic | Toxin-Free | Cruelty-Free | Australian Made
Three Warriors is a beautiful, locally-made tan full of healing, anti-aging and hydrating organic ingredients. Three Warriors source the purest organic ingredients available and feature Manuka and Leatherwood honey, powerful healing agents which contains amino acids and collagen to enhance the skin's health and elasticity. Certified by Toxic-Free Safe Cosmetics Australia and OFC Organic Food Chain. It contains NO perfumes or toxins and has a beautiful natural chocolate aroma – perfect for sensitive skins and noses.
THREE WARRIORS EXPRESS 1-5 HOUR TAN*
Colour will vary depending on the individual, as your skin is unique. As a guide shower after
1 Hour – A light tan
2-3 Hours – A light to medium tan
4-5 Hours – A medium to dark tan
After processing time, wash off excess with a very quick, cool shower, pat dry then watch as your bold and fierce tan develops.
$55
SPECIAL PACKAGE: Buy 5 get one free
PRE-CARE AND POST-CARE FOR SPRAY TANS
Book your tan to be applied 1-2 days before your event for the best results. Express tans can be booked for same day events
If you have never used self-tan products before (these can be professional or home tans) or Tuscan Tan/Three Warriors, we recommend a test patch 48 hours prior. We apply a small amount of the self-tan product with a cotton bud to the inner crease of the elbow or behind the ear and leave to dry. If any contra-actions occur such as redness, swelling, inflammation or itching, avoid using the product as this is a positive reaction for sensitivity. If no reaction occurs then it is considered fine to proceed with the full body application.
If you wax, please do so at least 48-72 hrs prior to your tan application.
If you shave, please do so the night before your tan application, and apply a good quality hydrating moisturiser afterwards (remembering to wash this off before your tan appointment – see point 6).
Use a loofah or mitt to thoroughly exfoliate the skin prior to your tan appointment (complete this in the shower you have on the day of your appointment).
Avoid applying moisturiser, lotions or body scrubs that leave an oily residue on the day of your appointment. These will act as an inhibitor to the tan and may negatively affect the final result.
Bring dark coloured, lightweight and loose clothing to wear after your tan to avoid marking light clothing, or rubbing the tan off, and to feel most comfortable. A strapless bra or bathing suit is recommended to protect rubbing in the shoulder area, especially if you are wearing a strapless dress to an upcoming event.
The spray tan formula contains a makeup style bronzer as an application guide. This will wash off in your first and second shower. Don't be concerned if the tan looks uneven after application, any excess bronzer will wash off when you shower, leaving an even tan.
Leave the tan on for 4-8 hours to develop before showering, or overnight for the deepest, longest-lasting colour (*Express tan wash off in 1-5 hours).
Remember to sleep on dark sheets to avoid marking bedding.
Have light, cooler showers if you wish to maximise tan longevity.
Moisturise daily to preserve the tan for the longest time. For an extra colour boost, try Tuscan Tan or Three Warriors Gradual Tan, a moisturiser with a hint of tan.
Wear SPF sunblock every day – self tan does not offer any sun protection.
To help the tan fade evenly, exfoliate every 3 days with a tan-specific exfoliant. We recommend Three Warriors Body Scrub, available at ANGELA'S MANE ATTRACTION which will lightly buff the tan to refresh it.
Use a tan remover mitt when you are ready to remove the tan, generally after 7-10 days.
HEALTH AND SAFETY FOR SPRAY TANS
None of the active ingredients in TUSCAN TAN has any known toxicity. The main ingredient, dihydroxyacetone (or DHA for short) is a colourless sugar that interacts with the amino acids in the surface layer of the skin to produce a temporary colour change. This ingredient is combined with Erythrulose, a naturally moisturising ingredient derived from raspberries, that works in the same way as DHA but it develops more slowly, giving you a smoother colour that lasts longer and fades evenly. Spray Tans only work upon the uppermost layers of the skin and is therefore deemed suitable to use during pregnancy, however be aware that hormonal changes during pregnancy (especially during the first 3 months) may affect the development of the tan. Do not apply to the breast area if breastfeeding.
This is the ultimate method of tanning without any UV damage.
It is instant, long lasting (up to 14 days) and it is completely safe and natural. We offer a range of five different shades to achieve a colour that best suits you and your skin type to give a beautiful even result.
Revolutionary Spray on Tanning System
Has revolutionized the tanning industry by creating a UV free spray on tanning system that recreates a tan reminiscent of the tropics.
Designed to enhance the sensual side of every woman, solutions has been formulated to create a natural looking DHA enriched instant colour that develops into a rich long lasting tan.
Professional spray on tan, the leader in tanning technology was founded in Victoria in a desire to achieve excellence in the UV free, tanning industry.
Safe and long lasting
Solution has been formulated to create a natural-looking DHA enriched instant colour that develops into a rich long lasting tan. The solutions active ingredient is DHA, a product derived from sugar that has been in use in the cosmetic industry for over 30 years.
Fast, effective application
Turbo system entails spraying DHA enriched tanning solution over the entire body using high volume powerful drive turbine. By ejecting air under low pressure, the system delivers a finely atomized mist that applies a natural all over tan in less than 5 minutes. The air diffuser allows exact quantity control, air jackets enclose mist and airflow allows immediate drying and perfect tone.
NEW
Tuscan Tan Rapid-Amino 90 minute development
Any hair removal treatments such as shaving or waxing should be performed the day before your appointment.
It is recommended that you exfoliate your skin with Sugar Scrub. Do not use any other brand of exfoliant as they may contain oils or other ingredients which may adversely effect the end tanning result.
After exfoliating, it is recommended that you wash using Balanced Skin Wash to restore the pH balance of your skin to normal levels. This will ensure the colour of your tan develops and maintains as it should.
After showering, do not apply any products to your skin such as moisturiser, deodorant, perfume or make-up.
Bring with you to your appointment; a brief dark coloured bathing suit or underwear to wear during your appointment.
Bring with you to your appointment loose clothing together with thongs to wear afterwards.
NOTE: Please pay particular attention to which Tuscan Tan spray on tan you have had applied and follow relevant aftercare instruction