Mens Haircare Range from CHI MAN
"New" CHIMAN the latest technology that fuse natural ingredients.
What CHIMan have is a massive point of difference!
Every man who is chivalrous, charming, heroic and who lives a busy lifestyle can now rely on the CHI Man range for all their grooming needs.
CHI Man is a paraben-free line developed specifically for a man's active lifestyle by utilizing the latest technology that fuses natural ingredients, stimulating aromas and without the unnecessary parabens and chemical nasties.
The shampoo and conditioner is packed with essential nutrients such as hydrolysed silk and silk proteins while panthanol effectively cleans the hair and scalp while providing fullness and thickness to the hair without adding weight.
Some Ingredients
Extracts of sage, rosemary, lavender, nettle and thyme, provide hair with incredible shine and enhance the condition of the hair.
Daily Active Clean
Shampoo
Essential part of grooming practice
Provides gentl cleansing action
Effectively cleans hair & scalp
No Added weight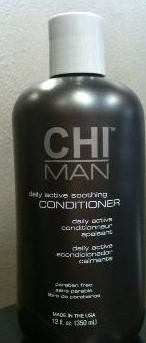 Daily Active Soothing
Conditioner
Supercharged treatment
Instantly conditioners & detangles
Refreshes scalp
Leaves hair fuller shiny & managable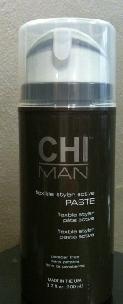 Flexible styler active
Paste
Pliable hold
Great on damp hair
Creates texture
No added Weight

Flexible contol styling
GEL
light weight
Clean feel & look
Provides stylingflexiabilty
No added Weight

Radical Style Extreme
Glue
Extra firm hold
Ideal for strutchered styles
Provides ultimate control
No added weight

Groom & Hold Finishing
Finishing spray
Flexiable hold
Fast drying
Provides incredibleshine
No added weight

Instant Refresing BODY SPRAY
Body Refreshing Spray
Instant Cooling
Refreshing action
Clean scent
Last all day long
Chi man is a line developed specifically for man's active lifestyle using the latest in innovative technologhy. this complete line of Shampoo, Conditioner,Styling,Finishing & Body Care will be an absolute necessity for all of his grooming needs.
Angela's Mane Attraction
196 High Street Kew Melbourne,
Victoria, Australia 3101
Ph: 03 9853 1005
Opening Hours
Monday – Wednesday: 8:30am – 5:30pm
Thursday: 8:30am – 9:00pm
Friday: 8:30am – 5:30pm
Saturday: 8:00am – 3:00pm